October 2018
I was honored to once again be chosen as one of the artists included in the  Hearts in San Francisco auction and exhibit. On an annual basis, a limited series of heart sculptures are created by San Francisco Bay Area artists. The Heart Sculptures play a lead role in the SF General Hospital Foundation's Annual Fundraiser event held in February of each year.
Below are a few pictures take in my studio, while I worked on this sculpture. My theme this year was California poppies. The little yellow flowers at the base are a stylized version of a California wildflower called Ludwigia peploides, which I chose to honor my mother, who's name was Jadwiga. All of the tiles are hand cut, glazed and fired in my studio.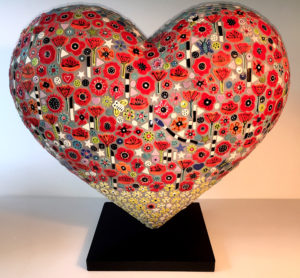 After being displayed in various locations around San Francisco, this heart was acquired by Intel Corporation for their private collection.